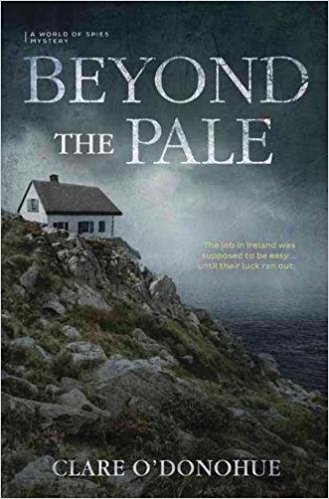 Married college professors agree to help Interpol in Ireland, but a simple errand leads them into a deadly criminal enterprise
It's a simple, twenty-minute job. At least, that's the pitch from Interpol to married college professors Hollis and Finn Larsson. Going undercover to procure a priceless rare book manuscript means an all-expenses paid trip abroad. A little danger thrown into the mix may even spice things up.
Soon after landing in the Emerald Isle, they realize the job is anything but simple. Their contact is a no show and they're left with fifty thousand euros, some serious questions, and a possible death threat. Ducking and dodging their way across Ireland, Hollis and Finn must hunt down the priceless manuscript and a missing agent while trying to stay one step ahead of a dangerous and unknown enemy.
Clare O'Donohue may have invented a new category of crime fiction―the amateur spy novel―and I'm a big fan. At turns funny, real, and nail-biting, Beyond the Pale is a terrific read.
― Lori Rader-Day, Anthony and Mary Higgins Clark Award-Winning author of The Black Hour, Little Pretty Things, and The Day I Died
Excitement definitely comes into Hollis's life. But instead of something that could inject life into her marriage, she may just be facing someone who will end her and her husband's lives once and for all.This is Book 1 in the new World of Spies mystery series, and the author has created the perfect roller-coaster ride.
―Suspense Magazine
If you liked Tommy and Tuppence, you will love Hollis and Finn Larsson, the heroes of Clare O'Donohue's stylish spy caper. O'Donohue knows her Irish literature and countryside, and weaves them beautifully into an action-filled story. Hollis and Finn, Midwestern college professors, are in way over their heads on the trail of a dubious manuscript. By the end of Beyond the Pale, they're ready to return to teaching, but readers will want them to embark on new adventures.
―Sara Paretsky, author of the V.I. Warshawski series
---
---